The 1993 Mustang
The 1993 Mustang overall changed little from the 1992 model, but the one bright light on the horizon was the reintroduction of the Mustang Cobra.



Well, not actually one 1993 Mustang Cobra, but two. For those who wanted to take their little fox body Mustang 5.0 to the next level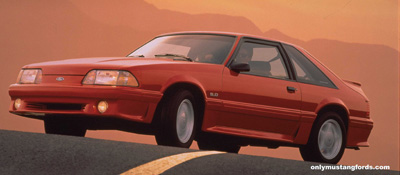 and could afford the steep buy-in, you could order up what was pretty much, a street legal race car.
It was the proud baby of the Ford SVT or special vehicles technology department and was initially called the SVT Mustang Cobra R.
Exterior Changes











Exterior changes were minimal, on the standard Mustang and even the new SVT Mustang Cobra. Distinguishing features included a new front valance, some cool looking 7 spoke turbine wheels, a restyled rear wing and of course the Cobra badges.

The Cobra R, however was a little less sedate. Slightly more than a quick look gave you clues as to the little Ford's other nature.
Rear seat delete. Air conditioner delete. Radio delete. Big 13.5 inch front discs with twin piston calipers. Hmmm.. maybe this wasn't just another 5.0 Mustang.
Interior Changes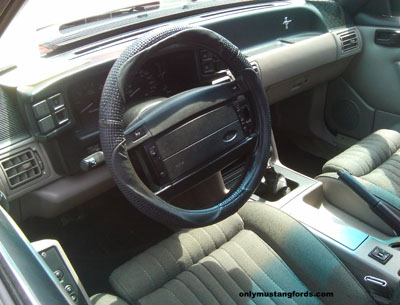 The interior as expected for a last year before an update car was left untended.
Engine and Power Train
The big news for the pony car, or at least for the new SVT Cobra was a 5.0 liter V8 pumping out 234 horse power. It was mounted to a manual transmission only option and a limited slip 3.08:1 rear end.
The SVT Cobra R (R for race) engine was virtually identical, with the Special Vehicles Team working to increase overall performance with wider wheels and tires, a larger front sway bar for better handling and braking.

The other two engine choices remained the same with a 105 horse power inline 2.3 liter 4 cylinder engine and the long running 5.0 liter V8 at 225 horse power.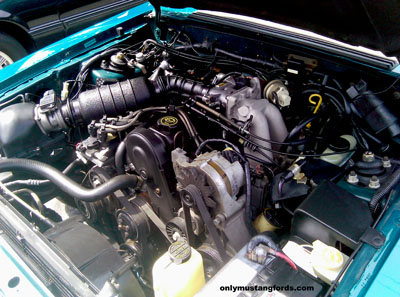 Return from 1993 Mustang to Fox Body Mustang

Return to Ford Mustang Home