The 1992 Mustang
The 1992 Mustang entered with a whimper, not a bang. Other than a few color changes, there was really nothing much to talk about. Buyers seemed to agree and sales slumped to new lows.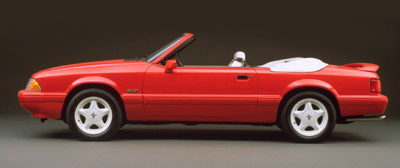 Exterior Changes
Maybe as a last ditch attempt to lure buyers into the showrooms, Ford conjured up some special edition 92 Mustang GT's.
The new 1992 Ford Mustang Special Edition came equipped with the 5.0 liter V8 and a special red paint job.
Interior Changes
The only real change in the interior for the marque, was the white leather interior that was only available in the special edition GT package.
Engine and Power Train
Engine options continued to be the 2.3 liter I4 with its 105 horse power engine and the ubiquitous 5.0 liter V8 with its horse power ratings unchanged from 1991.
The '92 car still remained the picture of performance and bang for the buck, with its 14.8 second quarter mile times and vast array of performance parts.
And that may be the best thing you can say about the last several years of production. Along with the overall popularity of the car for performance and racing, and a steady annual supply of similar cars and engines,high performance parts manufacturers jumped up to fill the demand for more acceleration.

The fox body cars are probably the most hot rodded group of cars anywhere, with easy availability of cheap speed parts and oem engineering that with a few tweaks can provide you with a sub ten second quarter mile ride.

Return from 1992 Mustang to Fox Body Mustang

Return to Ford Mustang Home