1992 Mustang C4 Transmission Swap
by Oscar
(Dodge City KS )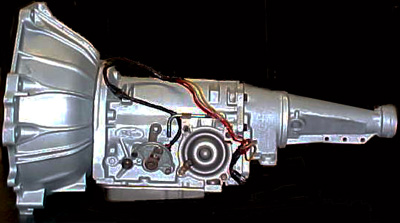 Ford C4 Transmission
Question:


I have a 1992 foxbody Mustang with an AOD transmission that I wanna do away with and install a Ford C4.
What am I gonna have to do for this swap???
Answer:
It's difficult to give you full information on doing your 1992 Mustang C4 transmission swap, without knowing what engine you have in the car. I'm also wondering why you want to go from a car with automatic overdrive to a three speed transmission. Gas mileage is not going to be nearly as good.
Are you swapping this transmission for drag racing?
I'll give you my best answer, assuming that you now have a 5.0 liter V8, with the AOD transmission. If that's not the case, you can use the comments form below to clarify the details.
Basic Replacement Parts:
- new or reworked crossmember
- new speedometer gear swap
- Aftermarket shifter/with conversion kit
- c4 kick down cable
- correct size bell housing and torque converter
1992 Mustang C4 Transmission Swap Issues :Output Shafts:
Both old and new are the same size with the same spline count.
Type or year of Ford C4 transmission:
There are two basic Ford C4 transmissions. The pre 1967 units are known as "dual range" transmissions. C4's manufactured later are called "select shift" units.
If you don't know which one you have, but still have the shifter, the easiest way to tell, is whether or not it has the "green dot" drive, which is the earlier unit. They have different
shift patterns, meaning the "D" position may be in different spots.
The alternative to messing with this, is using something like a

B&M Sport Shifter
, .
Bellhousing:
Pre 1980 engines had 28.2 ounce external balance weights. After that, they all changed to 50 ounces.
C4's came with either a smaller (157 tooth flexplate)or larger size bellhousing (164 tooth flexplate).
AOD's have a 164 tooth flexplate, so to you'll need to use the large bell housing or an aftermarket one, to accommodate the 50oz flexplate from your 5.0 V8.
Torque Converter:
Make sure your torque converter is for a 164 tooth flexplate. If you're going racing with this setup, this might also be the time to think about a new high stall torque converter with a 26 Spline Input Shaft like a
B&M Tork Master 3000 (part no. 50442)
.
Input Shaft:
Early C4's are 24 spline and the later models have 26 splines. When choosing a torque converter, match the teeth on the input shaft.
Driveshaft:
Your 1992 Mustang driveshaft should work fine with the C4, but you'll need to grind out the welds on the crossmember and move it forward for clearance.
Speedometer Gear:
This is basically a bolt in, using the original one from your current AOD.
The 1992 Mustang C4 Transmission Swap is about as straight forward as you can hope for. Just take your time and verify you have the right parts before you start.
Good Luck!
Return from 1992 Mustang Transmission C4 Swap to Ford Mustang home