The 1991 Mustang
Unfortunately, the saga of the 1991 Mustang was becoming the same old tune, that Ford had been whistling since 1987 and really, since the early 80's.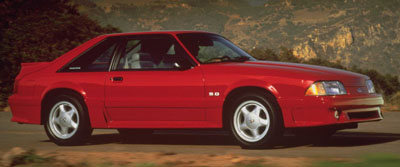 Exterior Changes
Although there was nothing to report on exterior styling for the body, Ford engineers did, however change the familiar GT wheels to a 3 spoke design and enlarge them from 15" to 16".
And the 91 Mustang convertibles received a lower profile boot cover that aided in visibility and looked better than the previous incarnation.
Interior Changes
Again, safety related changes were the only tangible addition to the interior and even that was minimal.
An ignition lockout was engineered so that the engine couldn't be started without your foot on the brake.
Engine and Power Train
The beefy 5.0 liter V8 continued to be the only performance option with its 225 horse power remaining unchanged.
The little 2.3 liter inline 4 cylinder, having been neglected for over a decade finally got a boost from 88 to 105 horsepower. That 20% increase added a little pep to the entry level Mustang crowd, but certainly couldn't match the numbers posted by import cars of the same vintage.

Return from 1991 Mustang to Fox Body Mustang

Return to Ford Mustang Home