The 1990 Mustang
The 1990 Mustang continued, again pretty much unchanged. Unit sales were declining. Some say it was due to the recession, yet others wondered whether the lack of change might be responsible.
The Ford Mustang convertible 1990 GT's and coupes continued to lag in sales behind the 5.0 liter V8 equipped LX models.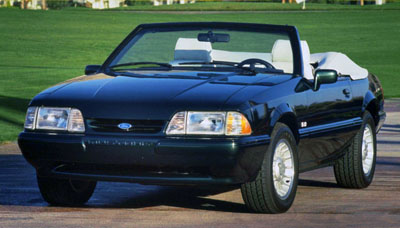 And the reason was as before, due to the fact that loyal 5.0 V8 performance fans had figured out that the same high output engine and even slightly better performance could be had at a lower price by choosing the LX model.

Exterior changes
As expected, there were no significant changes to the exterior styling for the 1990 Mustang body shape. The one-two combination of a down market and an unimproved car, resulted in a drop of almost 80,000 cars.
Now this might seem like a bad thing for a car company, but the truth is, that it takes some time to pay off the big investment in tooling up a new car. And that means that even though overall sales may drop, the company's profits could still improve.
Interior Changes
Most of the interior changes for the year, were related to safety and weight reduction. The latter being an always important benefit for both performance and fuel economy.
Shoulder belts in the rear became standard, and a passenger side air bag was available. A safety dictated headrest was added to the seats.
Interior colors changed, with a combination of 4 single tone colors and 4 two tones for the convertibles, but styling changes were minimal.
A small 25 years, logo plaque was attached to the passenger side of the dashboard.
Engine and Power Train
The two only engine choices remained. The 2.3 liter 88 horse power inline 4 cylinder engine and the 5.0 liter V8. The V8 still posted an impressive 225 horsepower, making for solid performance and a relatively big power bang for the buck when you consider that the car could be had in coupe form for little over $10,000.
And it was pretty hard to find a car that could cover the quarter mile in stock form in the low 15 seconds, or become a great deal quicker with relatively inexpensive engine mods and tuning.
And for that matter, a coupe or Mustang convertible 1990 version is still a great deal as a used car, both for it's performance and styling.

Return from 1990 Mustang to Fox Body Mustang

Return to Ford Mustang Home