The 1988 Mustang
The 1988 Mustang was virtually unchanged from the '87 model, which for a change was pretty good news.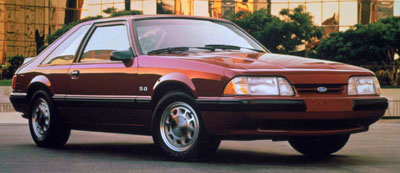 Sales jumped back up over 200,000 as word got out about the new found performance of the pony car.
The GT was unchanged and the LX with the 5.0 liter V8 option became a popular choice and for the most part, the general public didn't really know the difference.
The 3 door hatchback continued to be the most popular style, while the convertible at $4,000 more, remained a distant second.
Exterior Styling
As mentioned above, the body remained virtually unchanged in all styles for the 88 Mustang.


Interior Styling
Interior color choices stayed at 7, with two tone options for convertibles only. Like other Fords of the day, the newly styled dashboard had probably more similarity to a new Ford truck than an older Mustang
Exterior colors were similar, but with the emphasis on bolder, brighter color choices.
Engine and Powertrain
Engine and transmission choices remained unchanged, which for the V8 choice was a good one. Some have said that the little 2.3 liter inline four was a "peppy little engine", but compared to similar sized import motors, they were extremely lacking in zip.

Return from 1988 Mustang to Fox Body Mustang

Return to Onlymustangfords.com Home