The 1982 Mustang
The 1982 Mustang finally brought some life back to the pony car stable.

















As a result of reliability problems (meaning warranty claims) Ford dropped the high performance 2.3 liter inline 4 cylinder. They replaced it with what was to become the staple of the new Mustang era, a new 5.0 liter V8 with a 2 barrel carb and 157 horsepower!
A new Mustang Gt was born, featuring the 5.0L H.O. (high output ) engine.
Gone from the lineup was the Ghia, having been replaced by the GLX package and available as both a coupe and a hatchback.
Engine and Drivetrain
Engines:
As mentioned above, the big news for the 1982 Mustang was the new 5.0 liter V8 with 157 horsepower.
Note: If you're looking for a used 82 Mustang GT its important to note that these were not the only cars with the 5.0 motor. Almost 25,000 GT's and just under 5,000 regular cars came with the 5 liter motor.
The other engines for the year were carryover motors from 1981, including the base 2.3 liter non turbo four cylinder, the 3.3 liter V6 and the 4.2 liter V8 with no improvements in power.
Drivetrain:
A 3speed automatic and the 4 speed manual SROD (single rail overdrive) were available, except for the new 5.0 Liter HO option, which only came with the 4 speed transmission, a 3.08:1 rear axle with traction lock and Ford's upgraded suspension.
Exterior Styling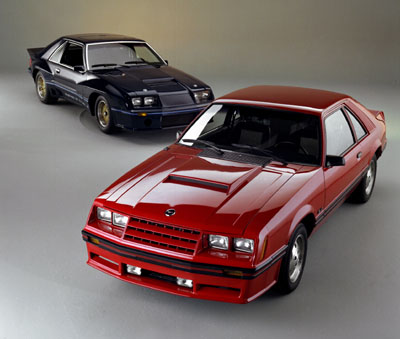 Two tone paint combos continued to be popular on both, the GT cars as well as the standard coupes and hatchback cars.
The egg crate grille continued on the standard cars, while the egg crate with two horizontal bars motif continued on the front of the GT cars.
Return to the Fox Body Mustang Section


Return from 1982 Mustang to Fox Body Mustangs

Return to Ford Mustang Home