The 1981 Mustang
The 1981 Mustang was upgraded slightly for this model year. Engine power increased slightly for the new V6 and Ford's only real high performance motor for the Mustang, the 2.3 liter turbocharged 4 cylinder engine was discontinued due to reliability problems.

This left the potential Ford Mustang owner with three major choices. The "performance oriented" customer could choose between the stop-gap inline 6 cylinder engine or the 4.2 liter V8. While neither of these choices were particularly powerful, the addition of some new transmissions and handling improvements still provided the buyer with some satisfying options and the ability to increase power with aftermarket parts.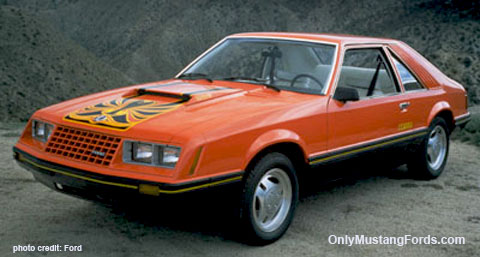 Gas mileage was still an important factor and the threat of off shore rivals with already great fuel economy ensured that the 1981 Mustang would have at least one choice ( the 2.3 liter 4 cylinder motor) that matched or bettered the others.
The 1981 Mustang Cobras differed little from the previous year, retaining their Blacked out grills and stylized Cobra logo in the hood.
The T-top was still an option, yet no convertible was available.


Engine and Powertrain
Engine:
The engine choices for 1981 were carry-overs from the 1980 model. The 4.2 liter V8, introduced in the 1980 model year became the most powerful option, yet its output was unchanged, producing a measly 119 horsepower. Even by 1980's standards, that was not very good.
To many, it seemed that Ford had given up on the venerable V8 Mustang...
A Performance Highlight
On a positive note, the 1981 Mustang offered the availability of a limited slip differential, called the "traction lock". Given the small horsepower available, it's hard to believe it was necessary, but it became a boon to engine swappers and hot rodders in later years later.
Base Engine
The standard 2.3 liter inline 4 cylinder was standard equipment and power remained at 88 horsepower.
The new for 1980 3.3 liter Inline 6 cylinder motor was carried over, with power rated at an anemic 88 hp.
Power Train:
Both, the 3 speed automatic and the 4 speed standard were available, along with the availability of the new limited slip differential.
Exterior Styling Changes











As was typical for Ford in the late 1970's and early 1980's, after a body refresh, nothing needed to be changed on a one year old body style and proceeded to do just that... nothing.
Hello! Don't ya remember the Mustang II ? Must have been a bunch of politicians running around Ford, shouting Four More Years !
All kidding aside, one particularly good thing for those of you restoring an 81 Mustang, is that body parts are plentiful and cheap.
Even changes in color choices were minimal.
Interior Changes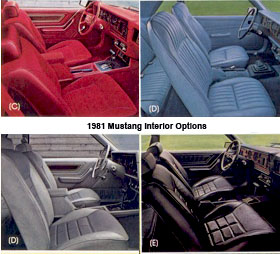 Ford actually reduced the interior color choices from 11 to six. The 1981 Mustang Ghia was outfitted with standard low-back, fully reclining bucket seats with adjustable head rests, dual beam map/dome light and luxury cut pile carpet.
Mustang Cobras continued to offer standard high back buckets or the super supportive optional Recaro seats decorated in black cloth, with a stationary headrest and included an insertable wedge for better lower back support.


Some Cool Facts
Just so you don't think that I'm down on these pony cars, I have to point out that many other Mustang lovers and manufacturers found ways to make these babies fly.
And I'm not just talking V8's either.
I've seen one of these little 81 Mustangs with the so-called hand grenade 2.3 motor, run just over 10.80 in the quarter mile on pump gas!
Did you know that these original 4 cylinder 2.3 turbo cars, can be built to over 400 horsepower with bolt on mods? Yep.
Now there's a good reason to find one with the traction lock option!
Return to Fox Body Mustangs

Leave the 1981 Mustang section and Return to Fox Body Mustang listings.

Return to Ford Mustang Home