The 1980 Mustang
The 1980 Mustang based on the Fox-4 platform, continued its evolutionary development in the styling department.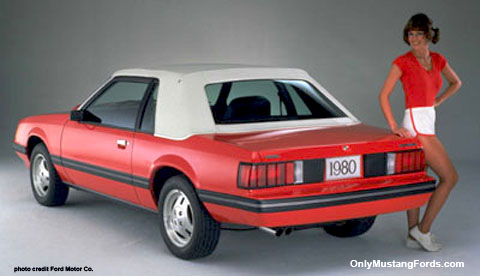 Whether it was pressure from CAFE (corporate average fuel economy) standards, or the belief that smaller turbocharged motors were the answer to the future of performance,strange things were happening in the engine bay.
Engine and Power PLant
Engine Choices
The venerable 5.0 liter V8 was replaced with a new 4.9 liter V8 ( 255 cubic inches ) which produced an uninspiring 119 horsepower.
The 2.8 liter V6 was replaced with a 3.3 liter V6 which could be had with 91 - 94 horsepower,depending on whether you chose the automatic or the standard transmission. Although horsepower was down slightly, additional torque from the bigger engine made up most of the defecit in responsiveness.
The standard 2.3 liter inline 4 cylinder remained and produced 88 to 90 horsepower depending on the transmission choice.
The factory performance motor for the 1980 Mustang became the 2.3 liter turbocharged inline 4 cylinder which continued to produce 132 horsepower.
Many V8 Mustang fans, were understandably put off, by what looked like the planned end of the V8 Mustang!
The M81 McLaren Mustang
Probably the most interesting development was The development of the M81 McLaren Mustang. Whether it is really a 1980 or 1981 may be up to argument. The fact, is however that the concept that started in the spring of 1980, led to the formation of a special vehicle operations ( SVO ) who was responsible for designing and producing the car, and set up specifically to create limited production performance vehicles to enhance Ford's performance image through motorsports.
The result was a wild looking car with wide IMSA flares at all sides,a factory roll bar,BBS alloy wheels and Recaro seats.
The engine was a modified version of the 2.3 liter turbocharged motor. Increased boost and standard hot rod technology,bumped the power up to 175 hp. Although some 250 of these cars were planned, its been said that only 10 were actually produced and with a price tag almost 5 times that of a standard Mustang, which was just over $5,000 at the time.
Exterior Changes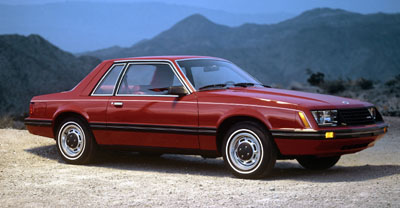 Few exterior changes were made to the 1980 Mustang. Ford's history of evolutionary changes, called for small detail changes and this car was no different. The front grille was restyled slightly and the Ford logo moved to the top of the front facia.
The 1980 Mustang Cobra borrowed heavily from the 79 pace car, with its distinctive grille,hood treatment, lower front air dam and rear lip spoiler on the rear decklid.
Interior Changes
Minor changes in the 1980 interior were made, including the addition of high back bucket seats for the base models.
The Recaro bucket seat from the previous year's Pace Car package, were kept as an option.
Leave the 1980 Mustang and Go Back to Fox Body Mustang listings .

Return to Ford Mustang Home