1977 Cobra ll
by Steven Arrington
(Camden MO, USA)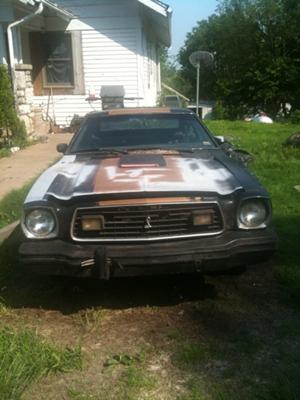 1977 Mustang Cobra ll


I just started working on it. My son gave it to me when he thought that he got his dream car.... he didn't like his but i love mine,... lol.
I just started some of the body work and found out that the sunroof on the 1977 Mustang Cobra 11 is from the factory.
It was a special ordered car. I'm thinking i got something rare. I'm also thinking that I'm going to stay original with it,......
Your 1977 Mustang Cobra ll looks like it will be a nice project car.
The body looks pretty straight, so that's going to speed things up a lot.
You didn't mention whether you had the 2.3 liter four cylinder engine, the 2.8 liter V6 or the 5.0 liter V8.
With a weight of only 2,700 lbs, it doesn't take much to make a very quick looking Mustang 11.
Keep us in the loop as you start to restore your pony car.
Cheers !
B.
Return from 1977 Cobra ll to Ford Mustang home