The 1977 Mustang
The 1977 Mustang like the 1976 cars, focused on improvements, rather than big changes in mechanical specs, adding features and packages that the public was requesting.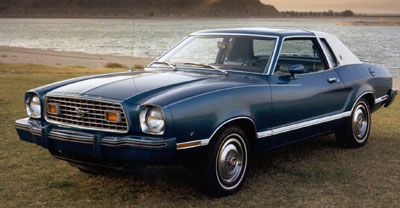 The 1977 Mustang Mach 1 continued on, with its distinctive paint and stripes and the availability of both, V6 and V8 options.
But its days were numbered, with less than 7,000 units produced,compared to the 49,000 other hatchback Mustangs.















The 1977 Ford Mustang Cobra II, with it's bold stripes, spoilers and non functional hood scoop continued to be a popular choice, although emission control legislation continued to reduce power output.
The Ghia model, continued to be a popular choice,particularly with women and accounted for almost 19% of all Mustangs sold.
Engine and Powertrain Choices
Available engines for 1977 included the 2.3 Liter ( 140 cubic inch ) engine with an output of 92 horsepower.
The 2.8 Liter V6 ( 171 cubic inch ) motor upped the power level to 103 hp.
The big kid on the block, the 5.0 Liter Mustang V8, produced 134 horsepower.
Both, the 3 speed automatic and the 4 speed standard transmissions were available.
Curb weight stayed around 2,700 lbs, which helped to make the smogger motors feel peppy for the time.
Making A Great Future Hot Rod
While not exactly a race car or "real muscle car" by late 1960's or early 1970's standards in stock form, that light weight and room for a small block Ford V8 made it a great candidate as a used car for some impressive improvements in reputation.
Using today's speed parts and technology can produce some pretty quick Mustang ll race and streetcars as any trip to the local drag race track will prove.
Exterior Styling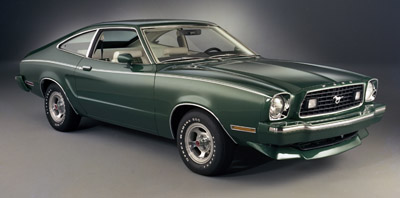 Like it or not, the styling remained virtually the same for the 77 model year. The Cobra II package installation, which had been outsourced for 1977, began in house production.
The only visible cues to the styling, were the change in location of the Cobra II logos.
The 1977 Mach 1 continued its 2 tone color keyed paint styling, with 2 tone bumper treatment and the Mach 1 logo near the kick panels.
Interior Styling
As was typical, with Ford, when a model came closer to the end of it's life cycle, the 1977 Mustang interior received very little in the way of change or improvement.
Fun Facts:
The 1984 Movie Starman saw Jeff Bridges in a huge chase scene featuring a pumped up orange Cobra II.

Return from 1977 Mustang to Mustang ll

Return to Ford Mustang Home