The 1976 Mustang
The biggest change to the 1976 Mustang was bringing back the Cobra package, which was called the Cobra II.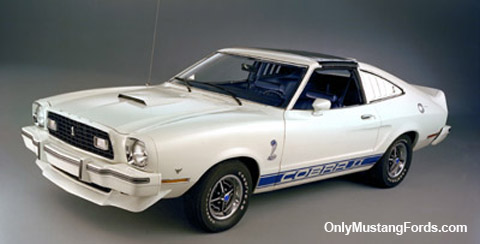 Along with a new, cosmetic hood scoop, Mach 1 like chin spoiler and a rear spoiler, came stripes, reminding you of the old 60's cars.
White cars could be had with blue stripes, blue cars with white and a new very cool black painted Mustangs were equipped with gold stripes on this year's Mustang Cobra 2.
The rear quarter windows also were covered with old style louvers,reminiscent of the 60's fastback mustangs and Shelbys.
To make sure no one missed the point, Large matching COBRA II striped covered the lower sides of the car and and over sized Shelby snake was glued to the fenders ahead of the doors.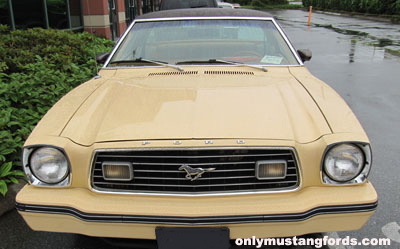 The 1976 Ford Mustang notchback or coupe remained a small package, with emphasis on style and comfort rather than performance.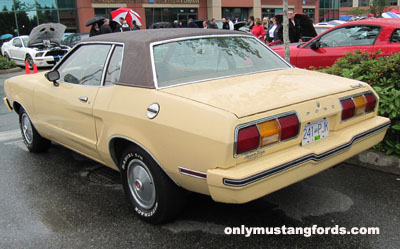 Engine and Transmission
Ford finally offered a new sports package that included a 4 speed manual transmission to go behind the new V8.
Interior Styling:
The interiors continued to see evolutionary, not revolutionary change, with the Ghia being the most luxurious of the bunch.
Exterior Styling: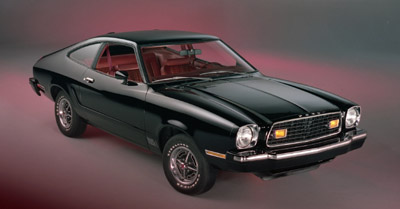 Again, for the most part, very little was done in the styling department for 1976. Ford did, however offer a T-roof, which featured removeable roof panels similar to the Chevy Corvette, which could be stowed away, creating the closest thing to a convertible that could be had at that time.
Some alloy, imitation wire wheels could be had to add a little class to your ride.
Interesting Facts:
If you've always wanted a Mustang, getting a Mustang II could be your easy first way into ownership. Prices for these cars are reasonable, and many good examples are still around. Here's some potential to chew on....
Popular Hot Rodding featured a 1976 Mustang they were calling the Low Buck Bully, which runs a 13.50 ET in the quarter mile at 105 MPH and corners like a Vette, at .99G !

Return from 1976 Mustang to Mustang ll

Return from 76 Mustang to Ford Mustang Home