The 1975 Mustang
The 1975 Mustang continued the evolution of the new, smaller and more fuel efficient second generation Ford Mustang. The second incarnation of the famous pony car offered some minor and a few major surprises for the 1975 model year.

The 1975 Mach 1 returned with some potential, the availability of a real V8 engine! While emission controls continued to strangle the life out of the 302 cubic inch small block Ford v8 (5.0 liter) particularly from the addition of the new and very restrictive catalytic converter, there were some great opportunities again for hot-rod ingenuity!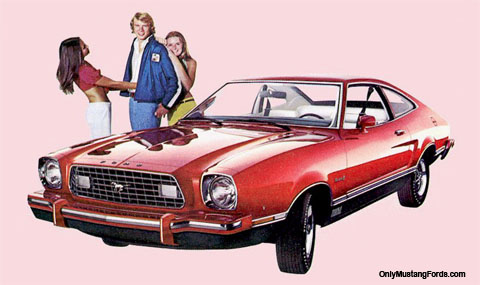 Exterior Styling Changes
As expected on the second year of a brand new design, Ford chose to change very little of the exterior styling of the 1975 pony car. The Ghia model, sported new and popular Opera windows, as did many other 1975 cars.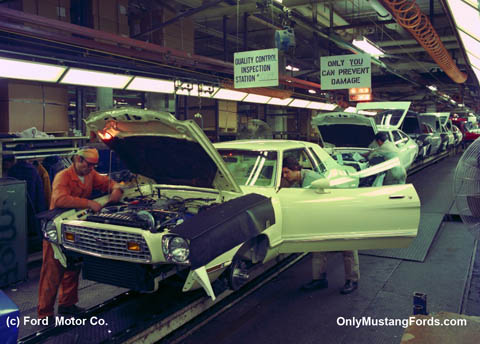 Job 1 at the Ford Manufacturing line. A total of 188,575 cars were produced in the 1975 model year, a drop of 197,418 or over 50% less than the 1974 models. While that was a huge decrease, compared to the previous year, it was still on the high side of production numbers for the 1969-1971 Mustangs.

Interior Styling and Changes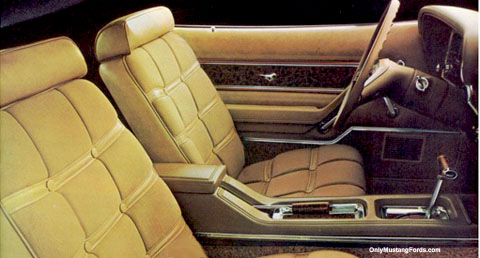 Interior appointments changed little from the 1974 model. Standard low back buckets and cut pile carpet were featured.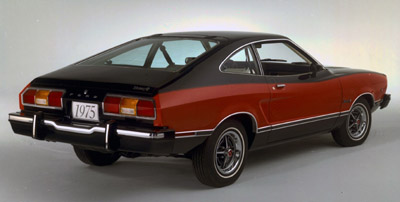 Engine and Power train
Engine:
The 75 Mustang ll, continued its "metric" 2.3 liter four cylinder (140 cubic inch) engine and minimal 88 horsepower.
Ford offered two bigger engines for 1975. The 2.8 liter V6, which produced 105 horsepower.
After some engine bay sheet metal massaging, the Ford engineers had shoe horned in its 302 cubic inch V8, and called it a 5.0 Liter engine. Unfortunately it was only available with an automatic. Although, a drastic improvement from the other two engine choices, it produced an underwhelming 130 horse power.
New V8 Performance Potential:
Unlike the other two, however, it had performance potential! And when there's potential, performance parts manufacturers will find a way to get the most out of that opportunity.
Headers,dual exhaust,a bigger intake,a new cam plus a few more tweaks and Voila! Instant fire breathing monster.
Yeah, Baby! The new Mustang ll had arrived.
Interesting Facts:
Many think that the movie American Graffiti and Suzanne Somers' mysterious blonde character, who cruised the streets in an Opera windowed T-Bird started that craze.


Return from 1975 Mustang ll to Mustang ll

Return to Ford Mustang Home from 75 Mustang ll