1973 Mustang VIN Code Data
by Kerry
(Dallas,TX)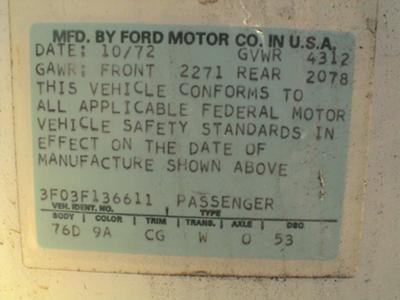 Click on each thumbnail picture above to see the larger image


Question: 1973 Vin Code Data
WOW !! I FOUND YOUR SITE & have 9 Tabs open & 16 different windows open, just clicking away on your site, love it !! AGAIN WOW !!
Bruce, I have/purchased a 1973 Mustang, here's info, what you got?
Date 10/72 GVWR 4312
3F03F136611
76D 9A CG W 0 53
Bruce, you sound like maybe your from over the pond in England? Me? Dallas, Texas
Kerry
Hey Kerry !
Glad to hear you are enjoying the site. Your town is one of my favorite places anywhere. Spent a lot of time in the DFW area a few years back.
Here's some information I can give you about your 1973 Mustang based on the decal pictures you uploaded.
By the way, if you'd like to share some pictures of your 73 pony car with us, just upload them on another contact form with the title re: Kerry 1973 Mustang.
First lets do a little vin decoder work with your 1973 Mustang vin code data.
Your serial number 3F03F136611 breaks down as follows:
3 - 1973
F - Assembly plant Dearborn MI
03 - Convertible
F - engine code 302 V8 2 barrel carb
136611 - the assembly unit number
From your door data plate information you get:
76D - convertible with standard interior and bucket seats
9A -exterior paint code Wimbledon White
CG - interior Avocado knitted vinyl
W - transmission C4 automatic
0 - axle 3.0:1 locking differential
53 - DSO Kansas City
Other than that, all I can tell you, that you probably already know is that your 1973 Mustang convertible is equipped with air conditioning (or it was).
By the way, I'm located in the Pacific Northwest a couple hours north of Seattle. Must be my Canadian accent !
All the Best
B.
Return from 1973 mustang vin code data to Ford Mustang