1973 Mustang
The 1973 Mustang was the last year of the "big Mustang" and the end for a long time of any real performance car of that name by Fomoco.



It also was the last year for the convertible, which thanks to more government regulations wouldn't be back until 1980.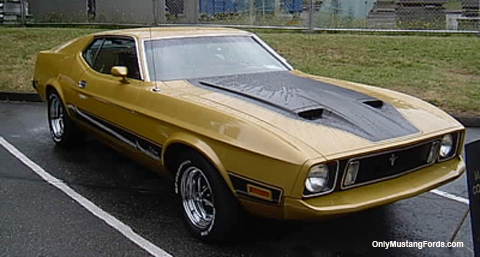 Engine Choices
Ford's engine choices for 1973 remained virtually the same. The 250 cubic inch I6 motor still was only 98 hp, while the 302 V8, provided a whopping (whipped?) 140 net hp.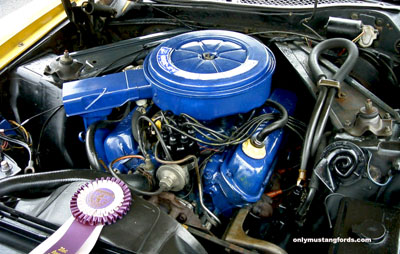 The H code 351 V8, with a 2 barrel carburetor was listed at 177 hp, and the 351 cubic inch Cobra Jet a reasonable 266 horsepower.


Exterior Styling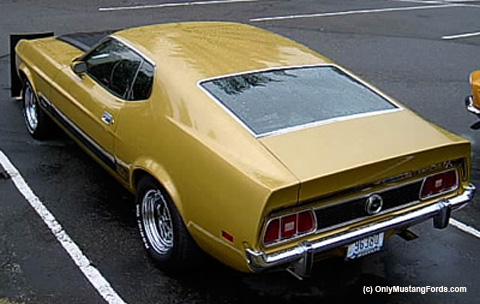 Unlike the 71 and 72 standard cars, all 1973 Mustang vehicles now were equipped with the previously Mach 1 only, body colored urethane "rubber" bumper. This was due to more strict bumper laws,that required cars to be able to withstand a 5 mph hit straight on, without showing damage.
At the rear, was the same chrome bumper, seen on previous years and other models.
The horse and corral remained on the front grille for 1973 standard and Grande cars. A larger rounded edged trim rectangle around the edges of the grille also housed the new standard vertical running lights.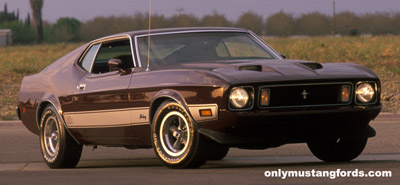 Mach 1 cars had a similar grill, but had different running lights and the single and simple pony logo in the middle of the grille.
The standard and grande cars lost the previous year's chrome wrap-around trim at the leading edge of the hood.
Interior Styling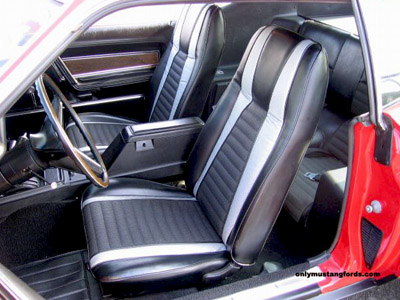 Changes to the interior were few. Although that makes identification difficult, it works well for restoration.
1973 Ford Mustang restorers will find that 1971,1972 and 1973 seat covers,carpets,dash pads,headliner and trim are all the same pieces.
So it's easier than some years, to find decent used replacement or reproduction parts. This goes for everything from standard coupes, to the Grande, convertible and Mach 1 cars.
Cool Facts:
One cool thing that actually happened in 1974 was that a 73 Fastback was featured in what many have said was the best car chase ever, in the original Gone in 60 Seconds movie. It was also the real first "Eleanor Mustang". The remake featured a 1967 fastback.

Return from 1973 Mustang to Classic Mustang

Return to Ford Mustang