The 1972 Mustang Mach 1
The 1972 Mustang Mach 1 still left no doubt that Ford remained in the muscle car business.



But the big 429 cubic inch Cobrajet V8 was no longer on the order sheet.
Like the previous year, the fastback, or sportsroof was the only option available, if you wanted to own a 1972 Mustang Mach 1.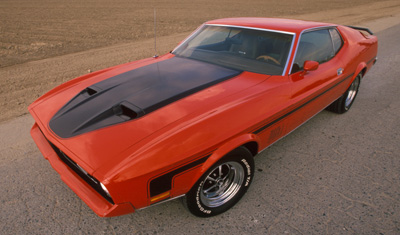 Exterior Styling
It's continuation of the new styling inside and out, made the car look bigger, which it was, but it also looked fast.
Part of the new design, was a product of government safety mandates, while the other was making enough room for the 351 Cleveland engines and all the smog fittings.
Add in the classic fastback styling, high beltline and long hood and you could spot it's heritage a block away.
To further enhance the look, the hood was decorated in matte black and featured two individual ducts, to bring fresh air into the motor.
Like previous versions, a special stripe package and the words Mach 1 featured prominently behind the front wheel arches.
The front design featured a color keyed urethane bumper, sports lamps in the grille and a textured black front chin spoiler.
Interior Styling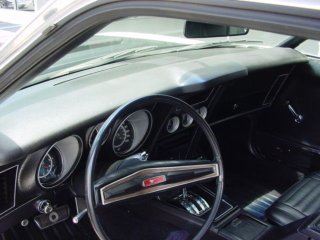 Along with the completely new body the previous year, came a distinctive new interior. Not to be confused with the plain Jane Ford Mustang, the 1972 Mustang Mach 1 featured some distinctive interior additions for their lucky owners to enjoy.
Like the 1971 Mach 1, the new car had it's own special high back buckets, with distinctive styling and familiar comfort weave panels.
The dash featured big round gauge pods, with a tachometer on one side and speedometer on the other.
Engine and Transmission
There was still a wide variety of available engine specs, limited only by your desire and the size of your wallet.
The base engine was a 302 cubic inch (5.0 liter) V8 with a 2 barrel carburetor.
A total of three 351 cubic inch Cleveland V8's were available, including a 160 hp 2 barrel, 200 horsepower 351 Cleveland 4 barrel Cobrajet and the 275 horsepower R code, high output 351 V8 engine.
Looking at these horsepower specifications, you could be excused for thinking that the 1972 Mustang Mach 1 in all forms had seen a serious decrease in power, but these numbers simply reflected the change in ratings for horsepower to S.A.E. net horsepower.
In fact, the output had not changed from the 1971 pony cars.
What had changed, was the availability of the big block 429 Cobrajet and Super Cobrajet engines. A combination of poor fuel economy and difficulty meeting emission control regulations, spelled the end of the big block Mustang.





Return from 1972 Mustang Mach 1 to 1972 Mustang