The 1969 Ford Mustang Mach 1
For many of us, the 1969 Ford Mustang Mach 1 is as much a monument to Ford's horsepower wars as the 69 Boss 302.
For one thing, then as now, the Mach 1 was much more available and affordable. In fact, there was a total of 72,458 of these models sold, compared to just over 2,000 Boss Mustangs produced.




















With it's sleek sportsroof (fastback) lines, stripes and spoilers, the 1969 Ford Mustang Mach 1 had a look that was fast and furious. Just the way we like it!
Exterior Styling and Identification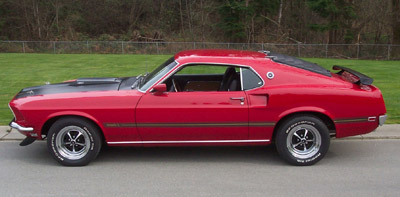 Some of the design cues you find on most 1969 Mach 1 cars, are the same as those on the Boss, including, an optional black, textured front lower chin spoiler and rear tail spoiler and distinctive styling stripes. Added to that were realistic looking rear fender ducts and a special Chromed gas cap and chrome exhaust tips.
The favorite of some, and the scourge of others, was the availability of flat black rear window louvers or slats.
The Mach, however also sported a matte black hood, a distinctive hood scoop and a round trim ring behind each rear window.
Also available, were some slick looking Magnum 500 wheels
Interior Styling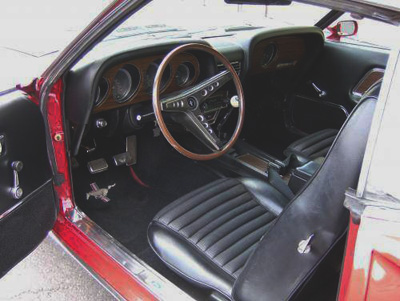 The interior was also distinctive from both, the regular 1969 Mustang fastbacks and the Boss 302, with it's special colored inserts in specially tufted seats.
1969 Ford Mustang Mach 1 Engine and Drivetrain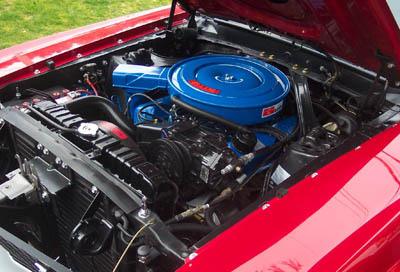 The standard engine was the new 351 Windsor with a two barrel carburetor, which produced 250 horsepower, a 4 barrel version producing 290 horsepower.
Also available for those seeking even higher performance, were the availablilty of several optional big block motors, including a 390 cubic inch v8 and two versions of the 428 Cobrajet.
The Cobrajet 428CJ-R , although rated at 335 hp, like the standard 428 Cobra Jet engine, included the special Ram Air package, which included a special hood scoop poking out of the hood, which allowed cold air to enter the engine under full throttle. Well enough, to get this big gun into the 13's in the quarter mile with stock tires.
Since it was attached directly to the engine air cleaner assembly, it "shook" slightly from the engine's idle and was commonly known as a shaker hood scoop.
Tony's First 1969 Mach 1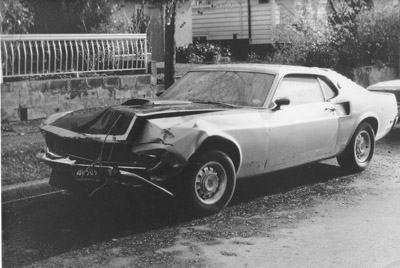 The 1969 Mach 1 that you see above in these pictures are those of a long time Mach 1 fan, named Tony, whose first, original big block Mustang Mach l met an unfortunate fate on rain slick roads, back in 1983. .
But his love for the Mach, ultimately led to the beautiful red rocket you see in these pictures.
Thanks Tony!


Return from 1969 Ford Mustang Mach 1 to 1969 Mustang


Return to classic Mustang

Return to Ford Mustang