The 1965 Shelby Mustang
The 1965 Shelby Mustang started life as a stripped down 1965 Ford Mustang fastback "K" code (high performance 271 horsepower 289 cubic inch V8) cars.
From this base, Shelby and crew turned them into formidable race track and street winning cars. Unlike many factory sport packages, this was no simple cosmetic alteration.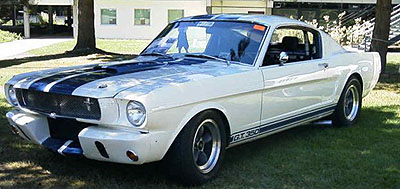 Combining good old hot rod techniques with lessons learned on the track and in his Shelby Cobra, the little pony car was turned into a stallion.
The 1965 Shelby GT350 was the result and is still one of the most sought after Mustangs ever. Some say it's one of the best looking 1965 Ford Mustang derivatives as well.


Exterior Modifications and Changes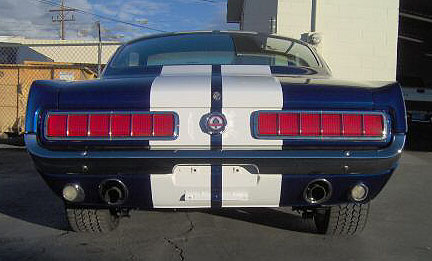 When you look at the exterior of the 65 Shelby GT350, you'll see some styling changes when compared to the standard 1965 Ford Mustang fastback.
Hood
The standard steel hood was replaced with a lighter fiberglass hood, complete with intake hood scoop and was locked into place with special hood pins.
Front Valance and Nose
The standard 1965 Mustang lower valance and upper grille were replaced with new units to differentiate the Mustang from the GT350 and give it a decidedly more aggressive look.
Rear Tail Light area
Most noticeable were the new and very cool, sequential firing tail lights.


Interior Changes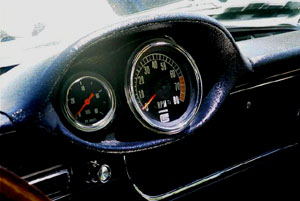 Changes to the standard Mustang interior included the addition of proper racing seat belts, a center gauge pod on the dash and the addition of a wood Mota-Lita steering wheel, adorned with the Shelby Cobra logo.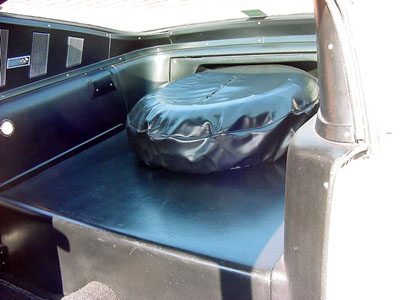 Engine Specifications And Changes
Specifications for the Shelby only engine, started with the high compression 271 horsepower K-Code 289 cubic inch V8. Shelby added some more of his own massaging of the engine's internals, which included the addition of a high rise intake manifold and a larger cfm Holley carburetor.
These combined efforts allowed the Shelby team to coax output up to a strong 306 horsepower.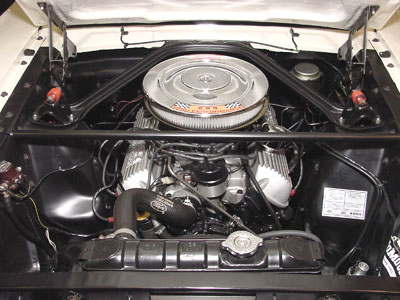 Along with the aluminum Cobra valve covers and Chrome air cleaner cover, there's a new cross brace added which bridges the shock towers to stiffen the chassis and improve handling.


So Just How Valuable is a Shelby GT350 Today ?
I just finished checking out a rerun show from a few months ago of the Barret-Jackson auction (before Carroll Shelby passed away), which featured a pristine White 1965 GT350 Mustang, which sold for a cool $100.000.
You can only guess what these cars will be in future now.
Looking for Cheap Mustang Insurance?
This new article shows you how to find the best coverage when its time to buy Mustang Insurance


Return from 1965 Shelby Mustang to 1965 Mustang

Return to Classic Mustang

Return to Ford Mustang home.