Its a 1965 Mustang fastback !
The 1965 Mustang fastback is probably the most recognized Ford Mustang in the world.
No other vehicle reminds you of the good old days of the pony car and performance wars, than the iconic Ford Mustang. Most 1965 Ford Mustang fastback fans don't know that the fastback body style was not

















available until late in the 1965 model year production run. Ford introduced the pony car first as a convertible and a coupe. As a result, one fastback Mustang you will never find, is a 1964 1/2 Mustang sporting a fastback roof.
Not the First Fastback Ford
The long sweeping lines of the 65 fastback or sports roof, were not new for Ford. The Galaxie 500 for 1963 received a fastback roof to help improve downforce for its factory sponsored NASCAR race cars, and the change not only worked on race cars, it worked with the buying public.
Whether the 1965 Mustang fastback appeared to improve it for factory racing, or Carroll Shelby had anything to do with it, the fastback or sports roof equipped Mustangs were a big hit with the buying public. And that hasn't changed to this day.
Whether you are looking for a classic Pony Car or a 2010 Mustang, the fastback style remains the enthusiasts favorite.
Engine and Drive Train
Since there were no early Mustang sports roof equipped cars, there should be no 260 cubic inch V8 powered fastbacks either. Similarly, there were no 1964 1/2 fastback cars. Why did I say should? Well, my late 65 coupe "should" have an alternator, not a generator, but it does. Take that Mr. Concours judge!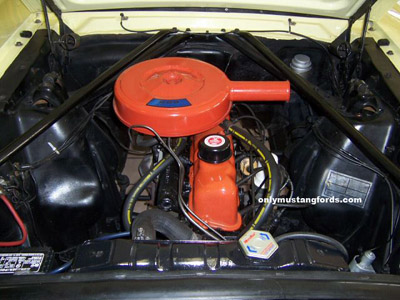 So your choice of power plant for the 1965 fastback was the 200 cubic inch inline 6 cylinder engine with 120 horsepower, a 289 cubic inch V8 with a 2 barrel carburetor and 200 horsepower, as well as a 4 barrel equipped 289 V8 with 10:1 compression pistons producing 225 hp.
And the top of the line Gt option produced 271 horsepower from its 10.5:1 compression, 4 barrel carbureted, 289 V8 engine.
Fastback Interior




















The interior featured many differences from the coupe and convertible models. Along with its new sloping roof and wide expanse of glass at the rear, the rear seats were completely different.


Unlike other model years,
all 1965 mustang fastback cars had a fold down seat
. This is important, if you are planning on restoring a classic Mustang. Other years had more than one option, and the 65 seats are by far the easiest to replace for this reason.
As well, unfortunate buyers of used seats for other model years on Ebay, have ended up with the 65 seats , which only fit the 1965 car.


Looking for Cheap Mustang Insurance?
This new article shows you how to find the best coverage when its time for Mustang Insurance.



Return from 1965 Mustang fastback to 1965 Mustang

Return to Classic Mustang

Back to Ford Mustang