1965 Ford Mustang Coupe Restoration Project
by Chris Shepherd
(Beaverton Oregon)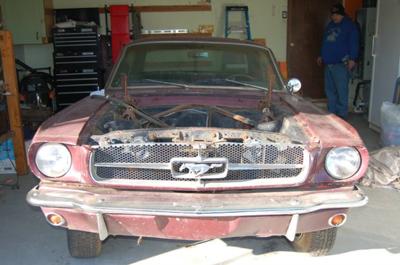 1965 Mustang Restoration
Comment:


I purchased this 1965 Ford Mustang Coupe out of a garage west of Portland Oregon where it was an abandoned restoration project.
Always seems to be a case of good intentions, rescued hulks, not enough time or money. I learned from my '66 Mustang,that a shop is the best place to start when it comes to restoration so I have mine at Custom Automobile in Portland.
Hey Chris!
Looks like it's a good base to start your restoration. Are you planning to do any of the Mustang's restoration yourself?
Send us some pictures as it progresses. It's always great to see another classic Mustang back on the road!
B.
Return from 1965 Ford Mustang Coupe Restoration Project to Ford Mustang