The 03 Mustang Cobra
Many fans consider the 03 Mustang Cobra or "Terminator" the ultimate Cobra. And its no wonder why. Ford's Special Vehicle Team ( SVT ) created this road going beast not only to conquer the 2003 model year.
But to do everything well. And that it does. Including the addition of a certain part of the suspension, not usually seen on any version of the world's favorite pony car!


Ford's big problem, with the 2003 Mustang's 4.6 liter modular engine, lay in the breathing department.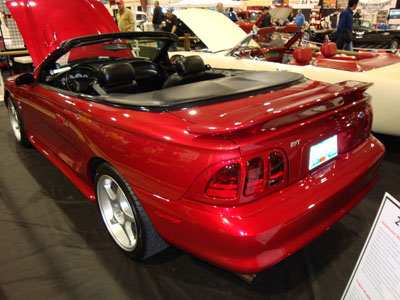 So the SVT crew took an already developed fix to the address the issue. And that was, forcing more air into it under pressure.
Interior and Exterior Features
The 2003 Mustang Cobra has a well put together exterior, with its functional vented hood and a sanitary looking new front fascia.
The rear is decked out with a distinctive rear spoiler and diffuser. And there's no mistaking that this is a COBRA with its logo embossed into the rear bumper fascia.
Ford's SVT Cobra Interior Styling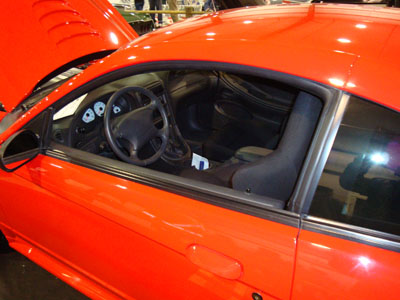 The interior is equipped with some cool suede inserts on the seat backs and striking white faced instruments. Other touches include metal clad pedals and the obligatory Cobra logo.
Like today's new Shelby Mustangs, the car was shod with state of the art Goodyear 275/40/ZR17 F1 tires, mated to new cast alloy wheels.
The suggested MSRP was just over $34,000, which nowadays seems like quite a bargain, but was pretty steep in 2003.
Nonetheless, a total of 13,476 of these amazing 03 Mustang Cobra limited edition cars were produced, with just under 5,100 as a convertible.
Engine and Drivetrain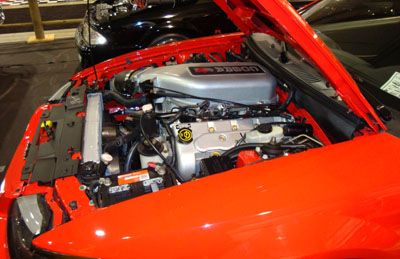 The "Cure" came in the form of the big Eaton blower that Ford was using to power the crazy fast for a production truck F-150 Lightning.
The big Eaton supercharger pushes air through an air to water intercooler to ensure a dense charge and was said to produce an ultra conservative 390 horsepower, but dynos tests over the years have showed that stock horsepower in the range of 420 - 430 hp was more likely for the SVT Mustang Cobra.
The blower also cured one of the most obvious shortcomings of the 4.6 liter engine, which was bottom end torque. With the supercharger, a strong 390 pounds of torque was on tap, with over 300 lbs kicking in at only 1,500 rpm.
To take regular pressure from the abuse of a force fed engine, Ford engineers based the 03 Mustang Cobra engine on a cast iron version of the 4.6 liter engine block.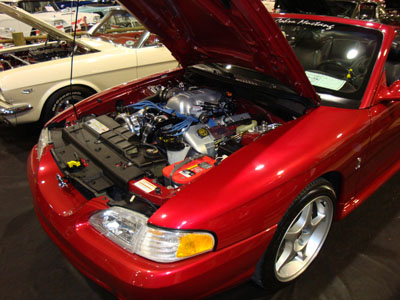 Typical hot rod engine building, including modified Manley H-Beam rods,forged pistons and improvements in oiling were made to keep everything together in the 8 psi boosted engine.
Power was transferred to the wheels through a Tremec T56, six speed transmission and a 3.55:1 rear end.
Quarter mile and 0-60 mph specs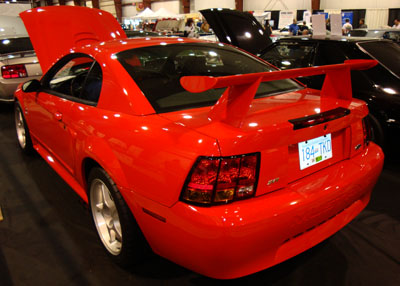 A run up from 0-60 took only 4.5 seconds and the quarter mile was done in the high 12 second range at more than 110 mph.





Return from 03 Mustang Cobra to 2003 Mustang

Back to the fourth generation Mustang

Return to Ford Mustang